Contact Evangelical Outreach
[You do NOT have permission to duplicate multiple pages on our website
to place on your own website. If you agree with our doctrine, great.
Link to that particular page/s and/or our websites directly from materials that
you create new. Write your own material. From there give us backlinks,
through anchor links, directly to our pages that you find important. Thanks and God bless you.]
Please send your comments, questions and/or testimonies in to:

Evangelical Outreach
PO Box 265
Washington, PA 15301
724-632-3210
WHY? Email is not safe.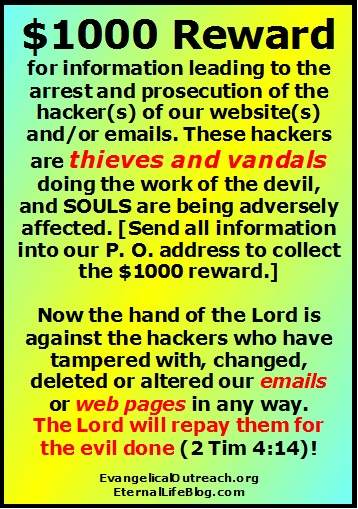 There is no way to assure
that your emails will ever reach us and certainly
many have been deleted without us ever seeing them.
Perhaps yours was one of them.
Sorry for any disappointment or inconvenience.
If you want to try to email, send it to EternalLifeBlog(at)gmail.com
If you try and don't get a response, please send it to the Post Office address.
*** To Join Our Internet Church, send us an email
with your request, stating your first and last name.
You may only sign yourself up. You may not sign someone else up.
To assure that we receive your request, send a letter through the post office.
Quickly Search Our Entire Site
Copyright Disclaimer Under Section 107 of the Copyright Act 1976, allowance is made for
"fair use" for purposes such as criticism, comment, news reporting, teaching, scholarship,
and research. Fair use is a use permitted by copyright statute that might otherwise be infringing.
Non-profit, educational or personal use tips the balance in favor of fair use.
Click Make A Donation above to use paypal or
Use Your Credit Card to securely make a donation in multiples of 10 dollars

Why You Should Support Evangelical Outreach

Or send your tax-deductible check
or money order today to:

EvangelicalOutreach.Org
PO Box 265
Washington PA 15301
724-632-3210

EvangelicalOutreach.org
EternalLifeBlog.com