Scriptures On Eternal Life
That God Wants YOU To Know
Dan Corner

Four Truths about Eternal Life
CLICK for pdf ==>>
Eternal Life
WHY Are These Scripture On Eternal Life Seldom Mentioned

There are multitudes of religious people who wisely want eternal life. Also, they correctly know their eternal destiny
beyond the grave depends on what they do with the message of the Bible, but somehow they still have no solid concept of various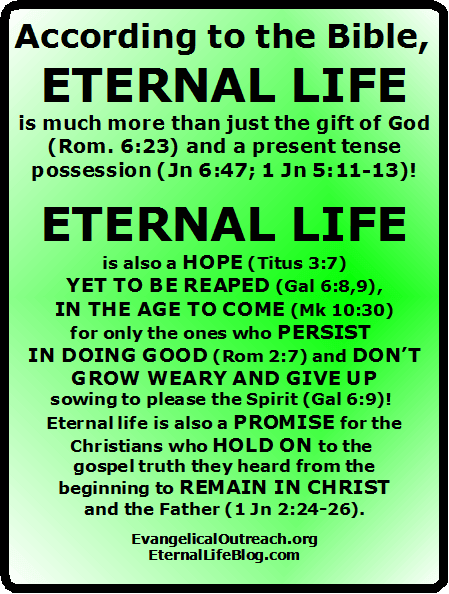 Scriptures related to eternal life. This is especially apparent when one would focus in upon the various Scriptures with the words eternal life found in them. Because of a false understanding of salvation, the following passages on eternal life have been ignored, avoided or somehow twisted to produce the security in sin so-called gospel of "grace" of our dark day that has bred lukewarmness, spiritual ignorance and wickedness. For your own sake, please carefully ponder these eternal life truths:
Avoided Scriptures On Eternal Life
The following scriptures have no place in too many people's theology, to their own harm and shame. They remain solid anchored in a so-called salvation security they think they have and flatly reject solid Christian beliefs. Don't be like them! The following verses are just as true as John 3:16 and all the rest.
Then they will go away to eternal punishment, but the righteous to eternal life. (Mat 25:46)
"I tell you the truth," Jesus said to them, "no one who has left home or wife or brothers or parents or children for the sake of the kingdom of God will fail to receive many times as much in this age and, in the age to come, eternal life." (Luke 18:29,30)
The man who loves his life will lose it, while the man who hates his life in this world will keep it for eternal life. (John 12:25)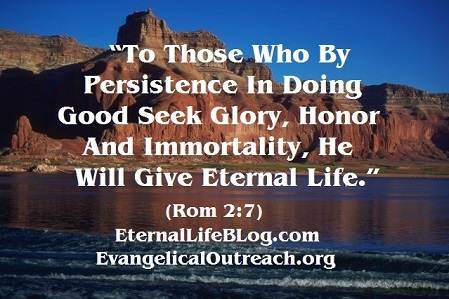 To those who by persistence in doing good seek glory, honor and immortality, he will give eternal life. (Rom 2:7)
But now that you have been set free from sin and have become slaves to God, the benefit you reap leads to holiness, and the result is eternal life. (Rom 6:22)
The one who sows to please his sinful nature, from that nature will reap destruction; the one who sows to please the Spirit, from the Spirit will reap eternal life. Let us not become weary in doing good, for at the proper time we will reap a harvest if we do not give up. (Gal 6:8,9)
so that, having been justified by his grace, we might become heirs having the hope of eternal life. (Titus 3:7)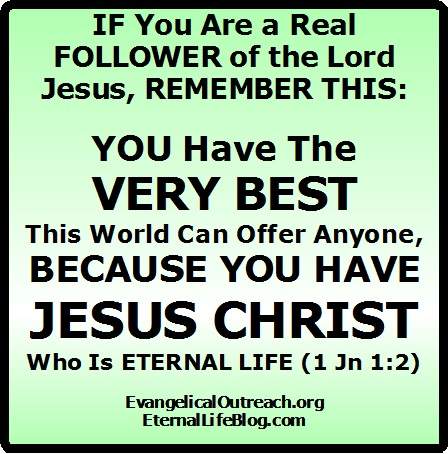 See that what you have heard from the beginning remains in you. If it does, you also will remain in the Son and in the Father. And this is what he promised us - even eternal life. I am writing these things to you about those who are trying to lead you astray. (1 John 2:24-26)
Keep yourselves in God's love as you wait for the mercy of our Lord Jesus Christ to bring you to eternal life. (Jude 1:21)
Everlasting Life Equals Eternal Life
Another pair of words to focus in on for a better understanding of this issue is everlasting life because everlasting life is the same as eternal life:
Multitudes who sleep in the dust of the earth will awake: some to everlasting life, others to shame and everlasting contempt. (Dan 12:2)
I tell you the truth, he who believes has everlasting life. (John 6:47)
Furthermore sometimes, based on the context, the word life refers to eternal life too!
Yet you refuse to come to me to have life. (John 5:40)
Jesus answered, "I am the way and the truth and the life. No one comes to the Father except through me. (John 14:6)
But these are written that you may believe that Jesus is the Christ, the Son of God, and that by believing you may have life in his name. (John 20:31)
We know that we have passed from death to life, because we love our brothers. Anyone who does not love remains in death. (1 John 3:14)
He who has the Son has life; he who does not have the Son of God does not have life. (1 John 5:12)
Many Have Been Deceived About Eternal Life
By Popular False Teachers
Many have only a partial understanding of eternal life, which canít or wonít allow for many of the above verses. Please remember: what you just read are salvation truths. Those precious Scriptures didnít originate with some false teacher. They are fact and forever settled! If your current understanding of salvation canít be reconciled with the above verses: (1) You have been deceived and (2) You, therefore, need to change your understanding of eternal life (and salvation) for your own sake! Remember what Peter wrote and take heed:
But there were also false prophets among the people, just as there will be false teachers among you. (2 Pet 2:1)
False prophets and false teachers can be very popular. They are on TV, in the seminaries and have filled the bookstores with their books. They won't tell you the above truths about eternal life, which reflect a conditional salvation!

Skull and Crossbones Awards of False Prophets and False Teachers
Aliens and Religion Do NOT Mix
Evangelical Outreach Alphabetical Map
Contact Us Or Join Our Internet Church

Evangelical Outreach
PO Box 265
Washington, PA 15301

EvangelicalOutreach.org
EternalLifeBlog.com