Have you ever wondered, what is heaven like, according to the Bible? In God's holy presence is glory, honor and peace (Rom. 2:10). It is PARADISE there and forever, but first those who will be in God's presence must pass their spiritual test and die physically.


Click Here To Find Out If Heaven Is A MUSICAL Place


REMEMBER: Jesus Died To Free Us From The Fear Of Death


Things that are inevitable should always be carefully prepared for.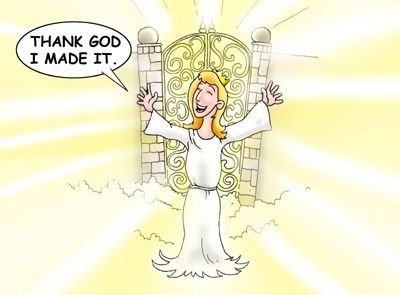 Physical death (or the point when one's spirit leaves his body, James 2:26 cf. Lk. 8:55) is one of the most important of all, for that is when we enter eternity, never to return. (There is no reincarnation, etc.) After someone has made the only adequate spiritual provision for his death by repenting of sins (Lk. 13:3,5; Acts 20:21; 1 Thess. 1:9; etc.) and having a trusting-obedient faith in Jesus alone for his salvation (Jn. 6:47; 1 John 2:3,4; Heb. 5:9; Acts 16:31; etc.) he is then ready to die, that is, if he is still faithfully following the Lord Jesus at the very end (Mt. 10:22; Heb. 3:14; Rev. 2:10,11). There is no Once Saved Always Saved. Backsliders are back on the road to hell again, but for those who have Jesus as their king (Lk. 19:27), physical death and being with God is compared to this life as better by far (Phil. 1:23) and is preferred (2 Cor. 5:8). [Note: not just better, but better by far.]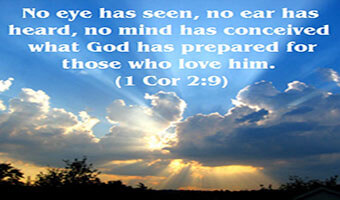 At that glorious and wonderful time when our race and test are over, the Christian (or the alien and stranger in this world, 1 Pet. 2:11) will finally leave this spiritual battlefield and go home to be with his Lord (2 Cor. 5:8) and the rest of our spiritual family. This world is not the Christian's home—heaven is. Home can be defined as: the place of abode of one's affections, peace, or rest; one's native place or country.

That is certainly not a description of this world for a Christian, who has spiritual weapons, armour, enemies, etc. all suggesting a spiritual struggle (Eph. 6:11-17; 1 Pet. 5:8; Heb. 12:4; etc.). The devil and demons are here! Again, remember the Christian's citizenship is in heaven (Phil. 3:20).
Sorrow and Sighing Will End
What is heaven like? In God's kingdom, gladness and joy will overtake the righteous and sorrow and sighing will flee away (Isa. 35:10). Again, sighing will cease. Sighing is currently an expression of sorrow, weariness, pain, discouragement, frustration, etc. The overcomer won't sigh anymore because those things, and the like, won't ever be plaguing him again! They will forever be gone and replaced with gladness and joy! (Thank you Jesus!) That, however, is only part of what heaven is like! There is even more good news to report!
Joyful Angels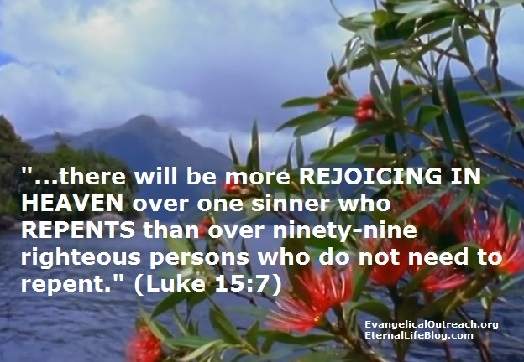 The holy
angels
will even be in joyful assembly there (Heb. 12:22). It will be a joyful place with joyful inhabitants. In brief, it is described as paradise (Lk. 23:43; 2 Cor. 12:4). (No one in this life has ever been in such a joyful place. Nothing in this life can even come close in comparison to what heaven is like.)
Try to imagine the extreme joy and excitement someone who lived for Christ for decades will experience when he first enters God's loving presence in Heaven. The same would hold true even for death-bed conversions, like the repentant thief (Lk. 23:42,43). At that God-chosen time, everything will be changed for the better. Never again will there ever be any lonely moments. No more crying in secret. No more pain of any type:
He will wipe every tear from their eyes. There will be no more death or mourning or crying or pain, for the old order of things has passed away. (Rev 21:4)
Beautiful Singing, Praise and Worship
If you have even been in a Spirit-led praise and worship service it was memorable, but it can't compare with what goes on in God's holy presence:
And when he had taken it, the four living creatures and the twenty-four elders fell down before the Lamb. Each one had a harp and they were holding golden bowls full of incense, which are the prayers of the saints. And they sang a new song: "You are worthy to take the scroll and to open its seals, because you were slain, and with your blood you purchased men for God from every tribe and language and people and nation. (Rev 5:8,9)
NOTE: They sing about Jesus' blood in heaven. It was Jesus' holy, cleansing blood which purchased us (redeemed) us.
No More Money Concerns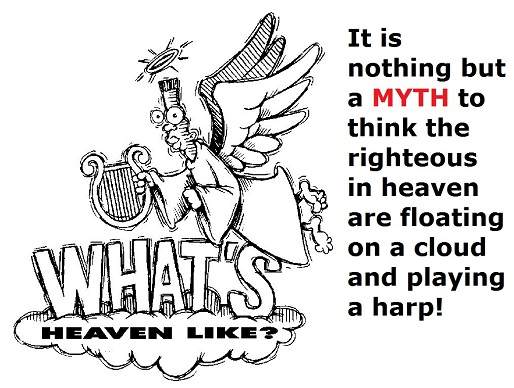 Furthermore,

never again

will there be concern about having enough money to pay for a car repair, mortgage, illness, college, rent, groceries, taxes, etc. Can you imagine such a wonderful place? That is what heaven will be like for the overcomers,

righteous

and those worthy of Jesus, as described in the New Testament:
Dear children, do not let anyone lead you astray. He who does what is right is righteous, just as he is righteous. He who does what is sinful is of the devil....(1 John 3:7,8)
The righteous will be there because of the Lord Jesus. He is the one and only Savior and door to heaven (John 14:6; Acts 4:12; etc.).
Heaven Is Only For The Righteous
Only the righteous will be there. God's adversaries, who misuse his name, won't be (Psa. 139:20 cf. Heb. 10:27). If the unrighteous were allowed there, they would taint and partly ruin it for the rest of us, so God won't allow it.
Or do you not know that the unrighteous will not inherit the kingdom of God? Do not be deceived; neither fornicators, nor idolaters, nor adulterers, nor effeminate, nor homosexuals, nor thieves, nor the covetous, nor drunkards, nor revilers, nor swindlers, will inherit the kingdom of God. Such were some of you; but you were washed, but you were sanctified, but you were justified in the name of the Lord Jesus Christ and in the Spirit of our God. (1 Cor. 6:9-11, NASB)
Hence, there is no universal salvation. Besides not seeing evil people there, you also won't ever see others suffering, as you do now, from blindness, deafness, mental retardation, physical deformities, etc. You personally won't experience any more toothaches, earaches, headaches, sore throats, stomach aches, backaches or any other kind of physical (or emotional) pain. You will have a new glorified body which won't be subject to disease, injury, aging or death. It will be paradise in every way as the worthy dwell in the holy presence of Almighty God. God's kingdom is a prepared place for prepared people. So, what is heaven like? All that and more, but who will enter it? The Bible says it is prepared for the righteous and those who love God:
Then the King will say to those on his right [the righteous], "Come, you who are blessed by my Father; take your inheritance,

the kingdom prepared for you

since the creation of the world." (Mat 25:34)
However, as it is written: "No eye has seen, no ear has heard, no mind has conceived what God has prepared for those who love him" (1 Cor 2:9)
Don't Be Afraid To Die
Obviously, such a wonderful place should be an extreme joy and delight to enter. Why, then, are some Christians afraid to die? One reason could be

fear of the unknown.

This, however, isn't valid, since God has told us in the Bible what would happen to us after death. We aren't in the dark about this like most. We know what heaven will be like!
A second reason could be the pain associated with death. Our brothers and sisters in Christ from the past have gone through every form of pain preceding death and God gave them sufficient grace for it, as he assuredly will do for us. Paul wasn't anxious about any of these for he said:
I desire to depart and be with Christ, which is better by far (Phil. 1:23).
If we are dedicated to God, our attitude and joyful excitement about our own death should coincide with Paul's. If you fear death, as a Christian, ask yourself why and accept the Biblical truth about death, which will free you. You should have no fear of death. For a Christian to fear death is completely irrational, especially since that is part of the reason why Jesus died, that is, to free us of the fear of death:
Since the children have flesh and blood, he too shared in their humanity so that by his death he might destroy him who holds the power of death—that is, the devil and free those who all their lives were held in slavery by their fear of death. (Heb 2:14,15)
Heaven Is Not For The Unsaved
Death is not better for the Biblically unsaved, according to Jesus (Lk. 16:19-31; Mk. 9:43-48; Mt. 22:13; etc.). We've all heard people refer to death for the long-time sufferer as, He is better off now that he is dead

or

His sufferings are over and he is in a better place. That is only true for the Christian. In contrast, for such an unsaved person upon death, his sufferings are intensified, not lessened. Death is only better for the one who has willingly decided to deny himself, take up his cross daily and follow Jesus here and now in this sinful society (Lk. 9:23). For him it is better than his wildest dreams! So what is heaven like? It is like all of the above and even more.
To view this inevitable thing we label death apart from the light of the Bible is to be deceived. That includes near death experiences. Question: Do you know how to find peace with God? Humbly and sincerely go to Jesus to prepare for death. To learn more about how to become a child of God, click plan of salvation. Remember these truths to know what heaven is like. GOD BLESS YOU.

Other Topics:
Jehovah's Witnesses Beliefs Answered And Exposed
The Image of a Christian in Our Present-Day
Evangelical Outreach
PO Box 265
Washington, PA 15301-0265


EvangelicalOutreach.org
EternalLifeBlog.com
Contact Us Or Join Our Internet Church