Doctrines Of Grace
The term doctrine of grace is really a misnomer when associated with Calvinism because Calvinism is NOT true Biblical evangelical grace. The misled Calvinists have been indoctrinated to believe that their five points are the Biblical doctrine of grace, when they are not true grace at all.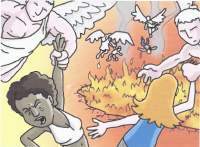 Jesus said, "If your hand causes you to sin, cut it off. It is better for you to enter life maimed than with two hands to go into hell, where the fire never goes out. And if your foot causes you to sin, cut it off. It is better for you to enter life crippled than to have two feet and be thrown into hell. And if your eye causes you to sin, pluck it out. It is better for you to enter the kingdom of God with one eye than to have two eyes and be thrown into hell, where their worm does not die, and the fire is not quenched" (Mk. 9:43-48).

JESUS said, "Be endeavoring with a strenuous zeal to enter through the narrow door, because many, I am saying to you, will seek to enter and will not be able ..." (Luke 13:24, Wuest).

AGONIZOMAI: to strive as in a contest for a prize, straining every nerve to attain to the object (Luke 13:24) [W. E. Vine, An Expository Dictionary of New Testament Words (Old Tappan, NJ: Fleming H. Revell Company, 1966), p. 94].

Are YOU making this type of effort to enter the kingdom doors, as the Lord Jesus advised? Believe the Lord Jesus, the founder of Christianity! See also 2 Pet. 1:5-10.


True Eternal Salvation
The true plan of salvation is repentance towards God and faith in Christ Jesus (Acts 20:21). We prove our repentance by our deeds (Acts 26:20). The Lord Jesus taught the road to life is hard and only a few will find it (Mt. 7:13,14, NKJV). Many get saved, but afterwards fall away (Lk. 8:13; Jn. 6:66; 1 Tim. 1:19; etc.). In other words, after initial salvation we must endure to the end to enter the kingdom of God and escape the lake of fire (Mt. 10:22; Heb. 3:14; Rev. 2:10,11). Eternal life comes to the repentant the moment such believe on Jesus for salvation (Jn. 3:16; 6:47; 1 Jn. 5:12,13), but there is another important aspect of eternal life that many are totally unaware of in our day because of the false teachings of modern Christian evangelism and once saved always saved (OSAS). According to true grace teaching, eternal life is also a HOPE (Titus 3:7), yet to be REAPED (Gal. 6:8,9) in the AGE TO COME (Mk. 10:30) for only the ones who PERSIST IN DOING GOOD (Rom. 2:7) and DO NOT GROW WEARY AND GIVE UP (Gal. 6:9). If a saved person sows to please his sinful nature he'll die spiritually (Rom. 8:13; Gal. 6:8,9). The prodigal is a clear example of this (Lk. 15:24,32). Loss of salvation is also possible from just one sin. Sin results in spiritual death, so DO NOT BE DECEIVED (James 1:14-16). For much more information regarding the believer's security, see our 801 page book, The Believer's Conditional Security: Eternal Security Refuted, which is the most exhaustive and comprehensive refutation to once saved always saved (or eternal security) ever written. It will not be refuted!

Because of the teaching of once saved always saved, grace has been taught as a license for immorality for so long, and without challenge, that when Scripture is quoted, such as 1 Cor. 6:9,10 or Rev. 21:8, it is disregarded, and the giver of God's Word is falsely accused of teaching legalism, bondage, works, etc. This reflects how truly dark the days are in which we live! Another glaring piece of evidence about the darkness of the hour is that religious people generally think an evangelical believes in eternal security when various Scriptures, including 1 Cor. 15:2 state otherwise.


All scripture quotations, unless otherwise indicated, are taken from the HOLY BIBLE, NEW INTERNATIONAL VERSION, NIV, Copyright 1973, 1978, 1984 by International Bible Society. Used by permission of Zondervan. All rights reserved.


Where will YOU spend eternity (Mt. 7:13,14)?
How important is your salvation?
Well, how long is eternity?

Contact Evangelical Outreach
PO Box 265 Washington PA 15301

www.evangelicaloutreach.org
www.eternallifeblog.com


Have you linked to an apologetics website?